Caught on Film: Gen, Valentina, Mia, Ariel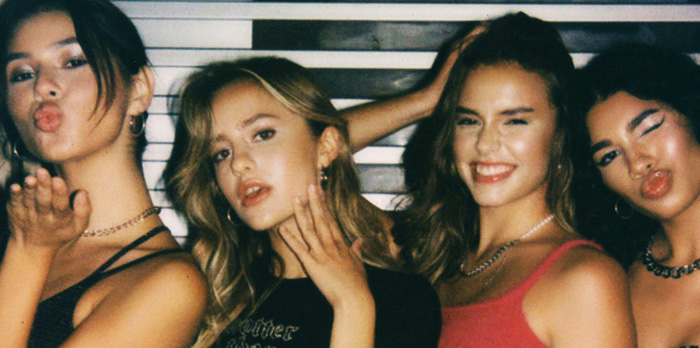 Please introduce yourselves!
Genevieve (@genevievevandam): Hi, my name is Genevieve van Dam, but all my friends call me Gen :). I grew up in Burbank, CA and now I live in Toluca Lake which is one town over. I'm 22 and I've been modeling full time since I was 17.
Valentina (@valentiinarose): Hi, I'm Valentina Bilbao from California! I'm currently a model and an actress.
Mia (@miahewett): Hi, my name is Mia Hewett, and I'm from Littleton, Colorado but currently live in LA. I'm a 20-year-old model & dancer.
Ariel (@ariel_toole): Hi! I'm Ariel and I'm 21 years young! I'm a city girl from Chicago who has found herself living in the city of angels, Los Angeles.

How did you all become friends?
Mia: I first met Gen through work in 2019 then quickly became roommates and best friends. Val, Ariel and I all met through mutual friends and have bonded ever since.
Ariel: We've become friends through mutuals and social media. It's the new age way of finding friends in a city filled with millions of people!

What are your favourite things to do together in the city?
Gen: I love going to museums and experiencing live music. Of course, with the current situation we can't do that right now, but we all try to come up with different ways to stay creative such as painting and making short films.
Val: I love going to thrift stores and estate sales with my friends. We all have different styles and love fashion so we never have a bad time. I also love antiques and art, so estate sales are perfect. We also love going out to eat together. We have a habit of going out for Italian food.

What's your fave holiday memory with your friends?
Gen: Mine is when we did secret santa! It's so fun surprising people and also not knowing who's giving what to whom. It makes the excitement of gifts so much more.
Ariel: I just moved to LA so this upcoming holiday season will be my first! I'm excited to see what my friends will introduce me to.

What is your fave memory together?
May: Shooting with Lola is always my favourite!
Lola: When we ran into each other at a bar, and it was our first time meeting in real life.

Top three songs to chill or party to?
Val: My top three songs to party to would be Killer Queen by Queen, Miley Cyrus' cover of Heart of Glass, and Death of a Bachelor by Panic! At the Disco. I've also been loving to dance to disco music lately too...but my music taste varies a lot based on my mood (laughs).
Ariel: My top 3 songs that I party to are, I feel love, I wanna dance with somebody, and the Schuyler sisters (yes, acting out Hamilton is a party to me).

Do you prefer gifting or receiving?
Gen: I definitely prefer giving gifts because I think I'm really good at giving the perfect gift.
Ariel: During the holidays, I prefer to give gifts, although when I was younger I preferred receiving!

How will the pandemic affect the way you'll celebrate the holidays?
Gen: The pandemic will make the holiday season a lot more family- and close-friend-focused which I enjoy. It also makes me want to help my community more because I know that this pandemic has affected a lot of people financially so I've been thinking of different ways to help.
Val: While our traditions will be affected by this pandemic, I'm hoping my family and I will be able to find a safe way to spend some time with one another.
Mia: My family and I won't be able to carry out our usual traditions due to the restrictions, but I am so grateful that I will still be able to spend the time with my family!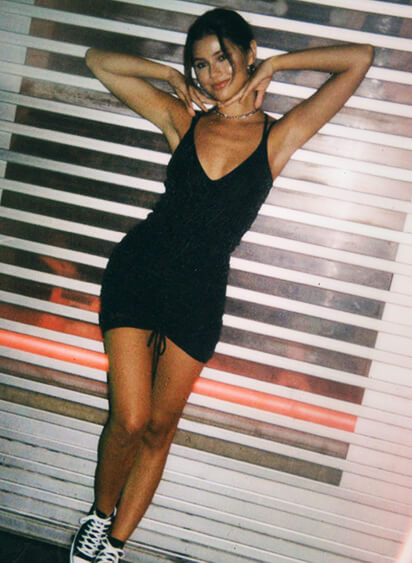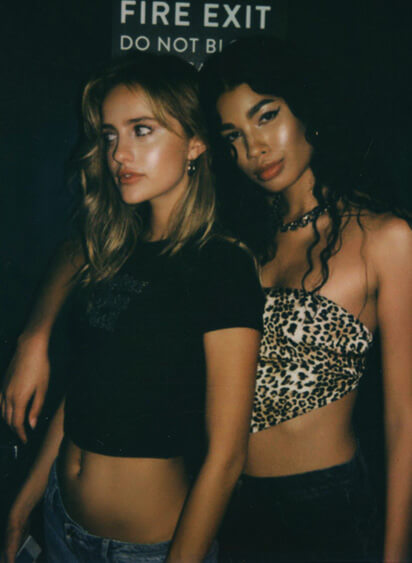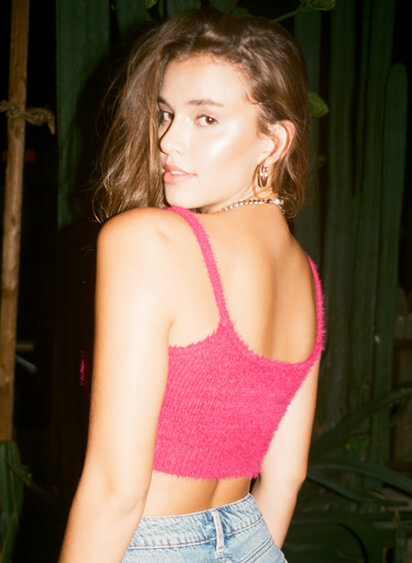 Looking back at 2020, what will you be reflecting on this holiday season?
Mia: With this year coming to a close, I am looking back on 2020 as a very difficult yet progressive year for me. I achieved some goals but also learned how important it is to be patient and to stay focused despite the challenges of 2020. I also found it is so so important to reach out to those who are close to you because it is likely that they are going through similar feelings. You are not alone!
Ariel: During this season, and looking back on 2020, I'm extremely grateful that my family and I were healthy and safe during these times. I feel very fortunate. This time allowed for a lot of growth and time to sit with myself.

Do you practice self-love/mindfulness? Has it changed since the pandemic hit?
Val: In full transparency, ever since a young age I struggled a lot with insecurity and comparison. While this is a thing I am still working on, I've been practicing self-love over the last few months and trying to accept the things that I may dislike or can't change about myself. I think my confidence, happiness, and self-worth have grown a lot because of this.
Gen: One way I've started to practice self-love is by meditating and stretching every morning. It sets the tone for the day and I've noticed a great improvement in my mood since I've started.
Mia: I practice self-love and mindfulness by frequently taking time for myself and doing the things that I love. Staying active has been so helpful. I enjoy going on walks/runs to listen to music or podcasts and I always feel 100 times better after.
Ariel: The way I practice self-love has changed in the sense that I've learned a lot more about myself both spiritually and physically. I began to study herbs because I realized just how important my health is.

What are your New Year's resolutions?
Gen: I don't have any specific goals set yet but one goal I always have is to be kind to everyone, especially myself! Mia: Some of my New Year's resolutions are to check in on my family and friends even more than I do now. I have so many good friends and family in different states and it can get tough being in different places, but it's important to keep them close at heart. I also want to get back into dancing more and to keep myself as healthy as possible, mentally, physically and emotionally.

Lastly, is there anything you accomplished recently that you're proud of? Share with us!
Val: I signed with Zombie Models and Industry Models and so far I love them! I also have worked on tons of acting self-tapes and have been dabbling in music and painting. I'm lucky to have had the opportunity to work on some safe sets. I also perfected my pasta recipe.
Gen: One thing I accomplished was to sign with a new agency whom I LOVE! I finally have a team who fully supports me as a whole person.
Mia: I was on my first billboard ever in LA!! It was so crazy and still is so surreal.
Ariel: I really organized my thoughts and finally bought a domain name for a business.